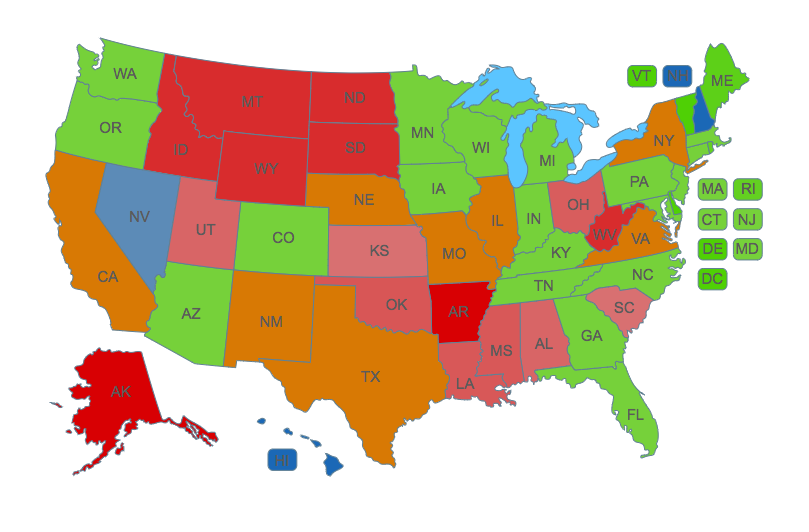 The US House of Representatives is currently controlled by the Democrats, who have a 35-seat majority. Members of the House only serve for two years, however, before facing re-election. So the composition of the House can change very rapidly, unlike the Senate, where only one-third of Senators are up for election every two years, and once elected, they each serve for six years before facing re-election.
The House is solidly Democratic, but that doesn't mean solidly progressive. About half of all House Democrats, give or take 100, belong to the Congressional Progressive Caucus, support the Green New Deal, Medicare for All and other key pieces of legislation essential for our survival.
These are Representatives who need our support. And more will join them every two years, until we have a solid majority of progressive Democrats in the House (and then in the Senate, and then in the White House…)
To find the progressive Representatives to support in 2020, go to your state and look for "House races".
New Progressive Candidates
Missouri – District 1 – Cori Bush
New York – District 16 – Jamaal Bowman
Illinois – District 3 – Marie Newman
Texas – District 10 – Mike Seigel
Nebraska – District 2 – Kara Eastman
Virginia – District 1 – Qasim Rashid
New Mexico – District 3 – Teresa Leger Fernandez
California – District 53 – Georgette Gomez
Existing Progressive Candidates
Arizona
CD3 – Raul Grijalva
CD7 – Gallego
California
CD1 – Huffman
CD11 – DeSaulnier
CD13 – Barbara Lee
CD17 – Ro Khanna
CD19 – Lofgren
CD20 – Panetta
CD27 – Chu
CD30 – Sherman
CD32 – Napolitano
CD33 – Ted Lieu
CD34 – Gomez
CD37 – Bass
CD38 – Sanchez
CD39- Cisneros
CD40 – Roybal-Allard
CD41- Takano
CD43 – Waters
CD44 – Barragan
CD45 – Porter
CD47 – Lowenthal
CD51 – Vargas
Colorado
CD2 – Neguse
Washington, DC
CD1 – Eleanor Holmes Norton
Delaware
CD1 – Rochester
Florida
CD9 – Soto
CD21 – Frankel
CD24 – Wilson
CD26 – Mucarsel-Powell
Georgia
CD4 – Johnson
Iowa
CD2 – Loebsack
Illinois
CD4 – Garcia
CD9 – Schakowsky
Indiana
CD7 – Carson
Kentucky
CD3 – Yarmuth
Massachusetts
CD2 – Jim McGovern
CD3 – Lori Trahan
CD5 – Clark
CD7 – Ayanna Pressley
Maryland
CD8 – Raskin
Maine
CD1 – Chellie Pingree
Michigan
CD5 – Kildee
CD9 – Levin
CD12 – Dingell
CD13 – Tlaib
CD14 – Lawrence
Minnesota
CD2 – Craig
CD5 – Ilhan Omar
Mississippi
CD2 – Thompson
New Jersey
CD1 – Norcross
CD3 – Kim
CD8 – Pallone
CD12 – Watson Coleman
New Mexico
CD1 – Haaland
Nevada
CD4 – Horsford
New York
CD6 – Meng
North Carolina
CD12- Adams
Oregon
Rhode Island
Tennessee
Vermont
Washington